 info@pelletmills.org

How to Choose Homemade Wood Pellet Machine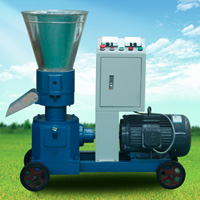 There are countless wood pellet machine suppliers on the internet, some are manufacturers, and some others are trading companies. So how to choose the most reliable supplier becomes the key consideration for those who want to purchase wood pellet machine online.
In fact, it is quite easy to choose homemade wood pellet machine from a reliable supplier.
GEMCO manufactures the best homemade wood pellet machines. Compared with the equipments from other manufacturers, GEMCO homemade wood pellet machine has the following advantages:
1. The die: the die of wood pellet machine is processed by specialized equipment to have a roughness of only 3.2. Those made by other manufacturers often have a roughness of 12.5. Other accessories are processed by CNC equipment to be precise.
2. Compression ratio of die: the technical data for die holes is gotten after hundreds times of trial and error to be precise and can bring best result for specific raw material.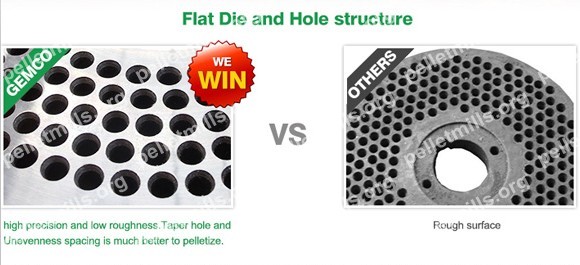 3. The electrical components: the electrical components of GEMCO homemade wood pellet machine adopt world-famous brand CHINT and SIEMENS. The electric control cabinet is processed by phosphating, pickling and coating to be safer and more durable. On the electrical box, there is also an Emergency Stop (other manufacturers do not have) to prevent the equipment from being damaged by blockage. There are also English (or other languages) signs to be clear to see. The circuit is arranged according to CE Standards. What's more, the electric control cabinet also has heat radiation structure that other manufacturers do not have.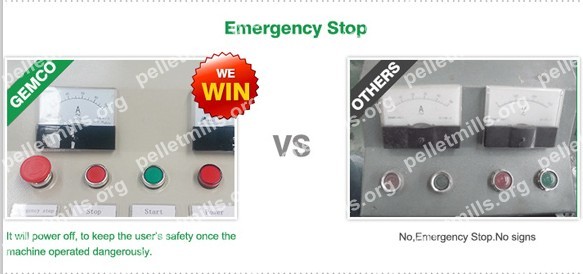 4. The die and main shaft of homemade wood pellet machine adopt 40Cr to be more wear-resistant. These two parts and roller, roller shaft are all treated by vacuum heat treatment to have great hardness, wear-resistance and service life.
There are many other advantages for GEMCO homemade wood pellet machines, all contribute to the excellent performance of wood pellets production. If you want to know more, please don't hesitate to contact us!
We receive enquiries in English, Español (Spanish), Русский язык (Russian), Français (French) and العربية (Arabic). Our professional team will reply to you within one business day. Please feel free to contact us!
Products
Related Topics
Recommended Products
Copyright © GEMCO ENERGY 2001-