 info@pelletmills.org

How to Maintain Your Biomass Pellet Mill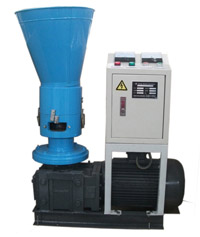 With world developing, biomass has become a main source of energy in our daily life. As a result, many people have seized the opportunity of making straw, wood chips, bamboo shavings, etc. with a biomass pellet mill for sale into renewable cylindrical pellets to use in power generation, heating and cooking.
However, many users cannot use the biomass pellet mill properly, even cause damages to the pellet mills. In consequence, the service life of biomass pellet mill is decreased, and it cannot reach its standard productivity and efficiency. So, to lengthen the lifespan of biomass pellet mill, it's vital to maintain it regularly.
Some tips for correctly utilizing the biomass pellet mills:
Carefully read the Instruction Manual to be familiar with the performance, structure and operation method of the machine. Then install and adjust it according to the Instruction Manual.
Make sure no impurities in the raw material to prevent damage to the machine.
When the biomass pellet mill is in operation, DON'T put hands into transmitting section and pelletizing chamber.
If the biomass pellet mill needs maintain or check, remember to cut off the electricity to guarantee safety.
The motor must be grounded to avoid accidents.
Lubrication
The roller and main shaft should be lubricated with lithium-based lubricant twice per shift.
The gear box part needs to use hypoid gear oil for lubrication. Pay attention to add oil to required limit. Then lubricate the biomass pellet mill every six months.
| | |
| --- | --- |
| Roller and die | Screws |
| |   |
How to maintain
Regularly check the screws in all parts. If there is looseness, tighten it in time.
The electrical part should keep away from water, moisture, corrosion and rodent. Make sure the electric cabinet and terminals are clean to avoid electrical faults.
Frequently check if flat die and roller wear.
Cleaning
Regularly clear residues inside the biomass pellet mill to prevent blockage.
Regularly clear the dust inside the electric motor to avoid electrical faults like short circuit or poor contact.
The scattered materials should be cleaned up timely to keep the machine clean, so as to prolong its service life.
As long as you keep these tips in mind while using the biomass pellet mill, it will scarely appear faults and can be used as long as possible. So maintaining your biomass pellet mill is extremely important.
We receive enquiries in English, Español (Spanish), Русский язык (Russian), Français (French) and العربية (Arabic). Our professional team will reply to you within one business day. Please feel free to contact us!
Products
Related Topics
Recommended Products
Copyright © GEMCO ENERGY 2001-