 info@pelletmills.org

Facts About Wood Pellet Plant Site Locations in Canada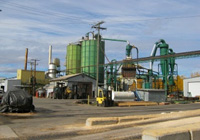 The various wood pellet plant site locations in Canada have experienced significant developments in the use and production of wood pellets, which have taken place at different times and in a wide variety of ways. Canada, which is home to 10% of the world's forest, is a vast nation and consequently, it is one of the leading pellet producers with 33 pellet plants of different sizes.
These plants export most of their pellets to Europe and for this reason, they have to maintain their production capacity at 2,000,000 tons annually in order to meet the growing demand. Although other pellet producing countries such as the United States and Russia are exporting more pellets by increasing their production, Sweden uses most of its production and in turn, it has to import from Canada. Consequently, Canada retains only 10% for its consumption.
British Columbia, whose pellet production capacity is currently more than 1.3 million tons annually, is the biggest producer of pellets in Canada. Although the processing and harvesting of Logepole Pine ,which has become a victim of the Mountain Pine Beetle, is largely responsible for the generation of pellets, their production depends mainly on the availability of adequate supplies of sawmill residues that are very affordable for the majority of Canadian citizens.
The distance from Canada to Europe is about 16,000 kilometers but British Columbia exports its pellets to this continent via the Panama Canal. Canadians consume very few pellets because British Columbia exports most of them to growing Asian markets such as Korea. Low-grade timber, which does not have any other commercial use, and sawmill residues are some of the most commonly used materials for the making of pellets.

Consequently, they have become a favorite choice for wood pellet plant site locations in Canada and especially those in the Atlantic region that are responsible for the production of significant quantities. The Atlantic region has become a major exporter of pellets especially to Europe because its production capacity is approximately 500,000 tons annually and experts in this industry say that it is growing rapidly and it is expected to continue growing.
However, the region retains at least 50,000 tons or 10% of its produce and especially in pellet stoves for local consumption. This region has a significant number of pellet boilers and furnaces that are fully automated and bulk pellet delivery systems hence its growing pellet production capacity.
Although the rural areas and the northeast part of Canada have a higher demand for pellets because they do not have utility natural gas, their production is not as high as in Quebec, which has a large number of pellet plants that plan to expand rapidly in the near future. The northern part of this region, which is known as Alberta, has the highest oil costs because it does not have natural gas but unfortunately, it produces only a small number of pellets, most of which it exports to the Northwest Territories. Fortunately, Northern Ontario is constructing numerous pellet plants and most of them have started producing pellets.
We receive enquiries in English, Español (Spanish), Русский язык (Russian), Français (French) and العربية (Arabic). Our professional team will reply to you within one business day. Please feel free to contact us!
Products
Related Topics
Recommended Products
Copyright © GEMCO ENERGY 2001-